It is Sunday and we are all clipping our coupons. It is almost the beginning of the month and time for the online coupons to be refreshed. Did you know you can earn 10 points for every Coupons.com coupon you redeem through MyPoints?
Additionally, you can earn 25 bonus points when you print and redeem 10 or more coupons from Coupons.com, Smartsource.com, and Cellfire.com (through MyPoints).
It is a great benefit because not only do you save by using a coupon, but you earn points quicker to redeem a gift card through MyPoints.
Free Sample on Target's sample site of Maybelline FitMe:
TargetSample
Monday Hops: Give It To Me Monday hosted by Just Married with Coupons and Graphic Design by Tara:
And I Love My Online Friends Monday Hop hosted by The Things We Find Inside, My Side of Life (guest host), and Michaela Noelle (guest host):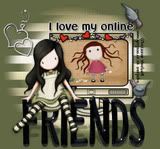 >